Contact Robots to Revamp your Contact Center Process with RPA
Tailor customer interactions to the needs and preferences of each customer

Provide efficient tools for exceptional customer service with low-code automation

Optimize service desk productivity by providing accurate customer journey analytics

Improve department efficiency by automating contact center operation activities

Set up single automation to integrate queries from multiple channels and provide consistent service across all routes

Reduce manual workloads with task automation to increase employee focus on building people skills
Revolutionize Service with Care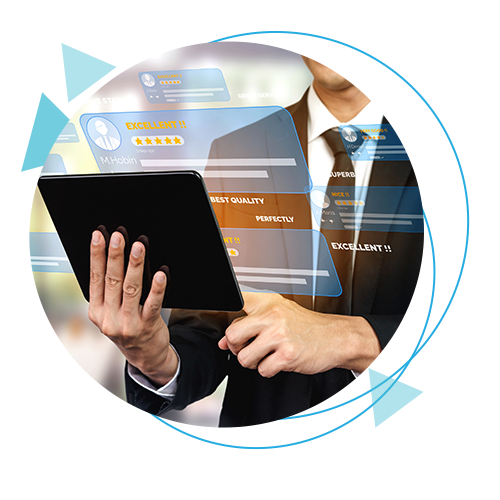 Intelligent Customer Data Management
Self-service Tools to Resolve Issues
Chatbots for Common Customer Queries
Streamlined integrations for CRM
Automated Alerts and Email Forwarding
Minimum IT Assistance for Automation
Drive Down Operational Costs
Optimize Agent Productivity
Let Robots do the Robo Work
Separate the robo-directed tasks from the KRAs of your contact center agents with Robotic Process Automation. Let RPA robots handle the repetitive tasks and empower your agents to deliver better customer service swiftly and consistently.
Increase
Customer Satisfaction
Customer Retention
Department Efficiency
Decrease
Unresolved Issues
Operational Costs
Customer Data Errors
Reimagine Incident Management, Reform Service Desk Processes
Automate the ticket routing process to minimize processing time and enable single-point tracking for all issues. With RPA, take advantage of smart bots to reduce human errors in incident management, manage tasks with alerts, and automate retries and escalations with customizable workflows and escalation parameters.
Support with Self-Service Portal for Customers to Rely On
Boost reliability in customer interaction by automating the self-service solution and surpassing the results of conventional customer service agents. With Robotic Process Automation, the self-service team is available 24×7 and equipped to address any incoming support or service requests from the customers.
Deliver Personalized Experience with Automated Data Updates
Leverage unattended robots to maintain, update and backup customer records. These software robots can read and understand documents in multiple formats. Free your Contact Center Team from the mundane tasks of regular customer data updates and backups to ensure accurate and efficient results.
AUTOMATE – DELIVER – RETAIN
Optimize your contact center operations by automating the age-old, outdated customer service. With RPA, empower your agents to deliver great experiences that drive more revenues, minimize costs, and improve CX to retain customers.
Handling Time
Reduce Average Handling Time by
30%
Customer Calls
Shrink Customer Call Volume by
35%
Performance
Improve Customer Center Performance by
10x
Dial Up Digital Power to Improve CX
Give your customers a zero-touch experience 24/7 and enable common issue resolutions with self-service tools. Transform contact center operations with end-to-end automation and drive down unwanted operational costs.
Automated Notification Activities

Intelligent Customer Communication Workflow