If there is anything that modern businesses are yet to tackle, it is handling of voluminous, routine tasks that take up a lot of resource hours and are prone to manual errors. Empowering employees with technologies and moving to digitized solutions is the next best step. Organizations still depend greatly on outdated, time-consuming methods of data entry and people-centric processes to manage certain activities such as data extraction, report generation, invoice processing, service order management, system reconciliation and card activation. The truth of the matter is that, automating these tasks can reduce back office effort, improve customer service, and help your employees focus on higher value-added tasks.
Improve process efficiencies and meet unprecedented increase in demand by streamlining your workflows with automation. XTGlobal's Automation/ RPA Advisory and Consulting Services offers customized solutions to step up your digital transformation. A rules-based virtual workforce can transform the front office, back office, and support functions, freeing your resources to focus on more strategic tasks.
Our Automation Partners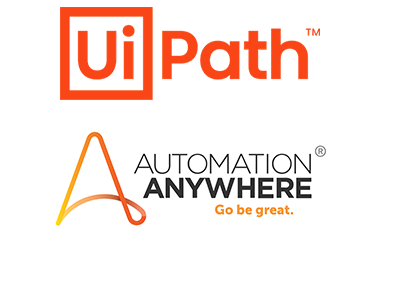 "Robotic Process Automation is use of "Robot" software to do certain tasks based on pre-set rules, regulations and standards."
How Does Robotic Process Automation Work?
RPA makes use of software BOTS or digital workers that mimic human intelligence to a degree. These robots use artificial intelligence to capture data, run applications, trigger responses, and even communicate with other systems. RPA can be applied for processes which are highly manual, repetitive, rule-based, with low exceptions rate and standard electronic readable input.
Attended RPA
Attended RPA bots help individual employees with their tasks to improve their productivity. They are usually triggered by users' actions and are generally dependent on instructions.
Unattended RPA
Unattended RPA Bots can function independently on rules-based processes and preset schedules. They are usually triggered by a logic in the process flow and can handle entire processes independently.
Where can RPA be Applied
HR
Payroll Management
Benefits Administration
Time and Attendance Management
Recruitment Administrative Activities

Resume Screening and Shortlisting
Offer Letter Administration
Onboarding and Offboarding

Personnel Administration

Employee Data Management
Travel and Expense Management

Training Administration
Compliance and Reporting
Finance & Accounting
Period-end Processing
Master Accounts Update across Systems
Maintaining Attributes Across Systems
Report Generation
Adjustment Handling
Procure-to-Pay
Order-to-Cash
Collections
Vendor Management
Incentive Claims
Collections
Sales Order Management
Inter-company Transfers
Accounts Reconciliation and Consolidation
Process Accruals
Reversal Handling
Vendor On-boarding
Purchase Order Creation
Exception Adjustment Handling
Liquidity Monitoring and Report Exceptions
Customer Management
Customer Inquiries
Order Management
Customer Account Setup
Document Processing
Duplicate System Entry
Logistics and Supply Chain Management
Inventory Management
Demand and Supply Planning
Invoice and Contract Management
Work Order Management
Returns Processing
Freight Management
Retail
Business & Sales Analytics
In-Store Planning & Inventory Management
Demand-Supply Planning
Trade Promotions
New Product Planning
Marketing Planning
Product Categorization
ERP Management
Customer Support & Call Center Processes
Healthcare
Membership Management
Pre-Population in Member and Provider Forms
Explanation of Benefits
Referrals
Claims

Verifications
Claim exception handling
Fraud and waste management
Handle claims submission through settlement
Renewals
Bid management
State on-boarding
Network management
Co-insurance

Providers

General Administration (Revenue cycle, Eligibility Checks, Claims Submission, Billing)
Posting and reconciliation of payments
Prior Authorization
Process charge-offs and third-party references
Insurance
Processing applications
Handling claims submission through settlement
Identifying and routing suspected fraudulent claims
Renewing policies in existing as well as new systems
Identifying claims recovery opportunities
Subrogating claims
Changing coverage settings
Canceling policy at customer request
Processing bills from vendors
Processing FNOL (first notice of loss)
Adjusting claims
Closing claims
Manufacturing
Bill of Materials (BOM)
Administration and Reporting
Customer Support and Service desk
Data Migration
Transport Management and Logistics
Reporting (inventory, Accounts Payable and Receivable, Pricing)
Multi-unit Management
Banking
Pre-populating forms
Account Management (Opening, Changing Data, Information Verification, Identifying exceptions, Reinstating/canceling/Suspending Accounts, Account Closure)
Credit, Debit Cards and Loans Management
Capital markets (Adding New Securities, Resolving Books and Record Breaks, Matching and Reconciling Security Positions, Reporting Current Position, Liquidity Monitoring and Reporting Exceptions)
Marketing
Content Generation and Curation
Programmatic Media Bidding
Voice Search
Propensity Modeling
Ad Targeting
Lead Scoring
Re-targeting
Dynamic Pricing
Web and App Personalization
Predictive Customer Service
Chatbots
1-1 Dynamic Content Emails