Assemble Automation Robots to Create Modern RPA-powered QA Capabilities
Eliminate mundane and common repetitive Quality Assurance tasks with digital tools

Enable application optimization with reusable automation libraries for QA Testing

Leverage Low-code automation for managing efficient & on-par technology testing

Monitor and schedule distributed execution of automate tests to keep the quality in check

Generate, manage, reuse test data for a continuous Quality Assurance of any technology

Analyze detailed test result logs to improve endurance of your digital operations
Procure Resilient Quality Across Enterprise with QA Automation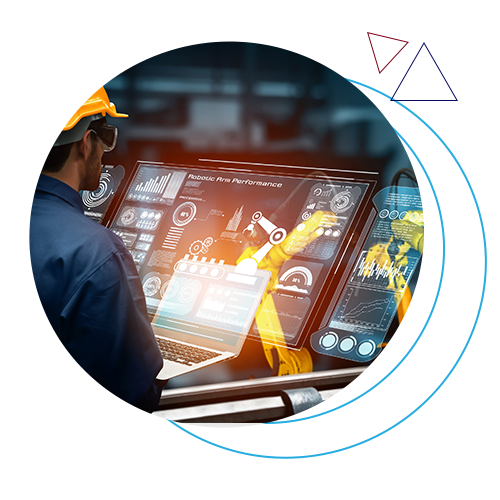 Uncover Underlying Issues
Fix Detected problems
Store Dynamic Test Data
Access Low-code Interface
Generate Synthetic Test Data
Analyze Test Results in Detail
Deploy Robots to Execute Tests
Acquire Test Results Promptly
Assist QA Teams with Robo-Assistants
Organize, schedule, store dynamic test data, and analyze detailed results to execute repeated tests with the help of a dedicated team of robots. Equip your technologies with resilience with more efficient and flexible enterprise testing using RPA.
Increase
Software Resilience
Test Efficiency
Test Data Accuracy
Decrease
roduction Disruptions
Underlying Issues
Mundane Tasks
Enterprise Integrations
Seamlessly connects to your Application Lifecycle Management toolchain and DevOps tooling to integrate into your existing processes.
Mobile Automation
Access to Automated test cases to check the quality of your web, native or hybrid mobile applications on different devices and operating systems.
360° Test Management
Monitor robots' workflow with automation, manage and map test cases, reuse test data and analyze execution results with data-driven testing.
AUTOMATE – REUSE – ENDURE
Rapidly deliver value while minimizing resource investment and risks with Quality Assurance Automation that prioritizes quality and ensures endurance.
Test Automation
75%
of Speed for Automating Tests can be Increased
Maintenance
50%
of Efforts in Maintenance can be Reduced
Reusable Tests
65%
of Test Components and Data can be Reused
Transform your QA Department with Digital Reinforcements
Resolve underlying issues proactively with a continuous automated testing drive. With Robotic Process Automation, build a next-gen digital army to manage testing efficiency, minimize maintenance, and establish accuracy in quality for enduring success.