The best in class AP automation products have shown tremendous cost savings and improved operational efficiencies for companies. Since time and money are the two key factors that drive automation; significant reductions of costs and processing cycle times have been the biggest influencers for automation so far. There are many other reasons such as fewer exceptions (and thus less payment blocks), easier process for suppliers to submit invoices, better visibility into cash flows, fewer errors during processing and better controls that companies have experienced from automation. The best part is that automation has made AP to be perceived as a strategic function rather than just an accounting task.
Accounts Payable is a crucial business process that involves valuable business data and relations with suppliers or vendors. It has been handled manually by most companies until a few years ago, but the global expansion of businesses has made it a challenging task. Ask any CFO and they will tell you that the biggest issue with accounts payables is the lack of visibility in the invoice process which hinders overall control, auditing and cash forecasting. Duplication, loss of invoices, late payments, reporting errors, complicated audit trails, frauds, and compliance issues are just some of the challenges that accounting, and budget managers face with accounts payables.
Automation of this crucial process has shown a reduction in transactional costs, improvement in purchase-to-payment cycles, and better reconciliation of purchase orders bringing down the process cycle time to within minutes from hours. Here are some of the ways by which you can derive even higher value through AP automation.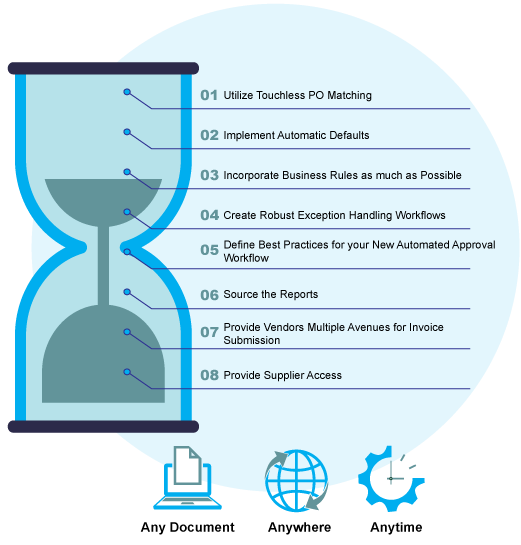 Utilize Touchless PO Matching
Streamline your AP operations by interfacing your PO and Receiver information with the invoice data inside your automation solution. An automated 2-way, 3-way, or 4-way invoice matching process ensures better compliance and speed of processing.
Automatically capturing invoice line item details and matching those details with the PO and goods received takes full advantage of the purpose of the PO process (upfront approval and agreed upon pricing) and allows for literally touchless invoice processing.
Implement Automatic Defaults
Save time and ensure accuracy through the automated population of specific missing mandatory fields when possible. With a wide variety of vendors and invoice formats, auto populating default data for missing data elements will limit the extent of manual intervention and makes the process more efficient.
For Example:
Populate Invoice Date with Received Date if Invoice Date is Blank
Populate Invoice # with Invoice Date (without dashes) if the Invoice number is blank
Populate GL field based on Invoice Line Type
Incorporate Business Rules as much as Possible
Incorporating business rules in processing an invoice can provide not only additional labor savings by reducing many manual tasks, but also increases corporate compliance and controls. If there is a clear boundary as to when a rule applies, take advantage of this by incorporating those rules within your automation process, thus eliminating your FTE's manual intervention.
When corporate controls depend on human intervention, inconsistencies of compliance can occur. Turnover, vacation, and sick days add to the complexity of maintaining consistency. Automating these controls through business rules not only allows your process to automatically route through multiple validations before the payment is released but can provide better visibility to critical data elements.
Here are a few examples:
PO Matching tolerance can be applied at either the header and/or the line level to minimize exceptions and increase Touchless PO invoice processing
Define fields that can be used for automatic 'duplicate' invoice check validation
Identify fields that can be automatically computed based on a combination of fields such as:

Discount Due Date computation based on Vendor Payment Terms & Invoice Date
Discount Amount computation based on Vendor Payment Terms & Invoice dollar amount before tax and freight.
Create Robust Exception Handling Workflows
Despite automatic PO matching, automatic defaults, and incorporated business rules, there will always be exceptions when processing invoices.
Implementing automatic exception handling workflows for issues such as Missing Mandatory Fields, Unknown Vendors, Quantity Mismatch, Price Mismatch, Receiver Mismatch, and Missing Mandatory PO will allow you to maximize the use of your automation tool and increase efficiency.
For Example:
Price Mismatch: Route to Buyer
Receiver Mismatch: Route to Requestor
Unknown Vendor: Route to Vendor Admin
Missing Mandatory PO: Route back to Vendor
Define Best Practices for your New Automated Approval Workflow
An image-based solution with audit trails and custom configured business rules brings more visibility and controls to multiple areas of the approval process.
There are several ways by which you can configure your automated Approval Workflow to generate a greater level of optimization; so defining what processes are best for your organization is key.
Automated Approval Workflows can allow for both Stairstep and Parallel and although both are good processes, it is important to analyze which process will work best for your corporate structure.
With Automation taking the time to document and set up your approvers, their dollar limits and privileges correctly is critical. Automated Approval Workflow minimizes your exposure to fraud activity as the process will not allow for deviation to the corporate rules and at the same time provides more visibility and transparency with audit trails.
Many companies incorporate situations that allow for Auto-Approving a subset of invoices. Sometimes this subset is based on a dollar amount threshold, a specific cost center, or even a specific vendor type (i.e. Utility Companies).
Source the Reports
One of the most significant benefits from AP automation is ready-to-use numbers available at the click of a button. Generation of reports is effortless when all the data is in a centralized AP automation system. Cash forecasting becomes better and easier when the invoices that are in the process can also be accessed. With digitalization sorting and searching from a large volume of paperwork does not seem like a Herculean task.
Audit reports and dashboards in the AP Automation system will make finance and accounting audits extremely easy. You can also use them for SOX compliance audits. Real-time oversight and reporting ensure that payments are made on time and also helps to monitor bottlenecks that are causing delays in approvals and payments. On Demand reports provide better visibility and access to track critical business data elements while KPI Dashboards provide timely visibility to monitor critical business data elements.
Provide Vendors Multiple Avenues for Invoice Submission
In trying to work with hundreds and many times, thousands of different vendors, you will get more out of your AP automation if you give vendors flexibility with their invoice submissions. EDI is an ideal option for invoice submission, but many vendors, if not most, do not have the technical expertise for this delivery option. Being prepared for your solution to automatically handle multiple invoice submission formats (such as EDI, email, paper, word, excel, etc.) allows for a smooth, transparent transition and 100% vendor compliance.
Additionally, if you have invoices coming in de-centralized to multiple locations, provide these remote locations with a process to submit their invoices directly into your solution, thus eliminating postage costs and reducing the 'Invoice Receipt to ERP timeline' significantly.
All that said, the implementation stage is a good time to send out a letter to your vendors with a list of submission options in order of your preference (1. EDI 2. email, 3. paper, etc.) Even if a vendor does not have the ability to produce an invoice in EDI format, you might find email submissions increase, which will decrease the amount of scanning efforts your department requires accordingly.
Provide Supplier Access
Calls into your AP department from Vendors asking questions such as "Did you get my invoice" can be eliminated by providing the supplier access to their specific invoices and their statuses
Additionally, Web-based portals can many times also allow communication options between your AP department and your vendors which provides additional name, date and time stamps to eliminate miscommunication.
The bottom line …
"The devil is in the details" is especially true for the AP automation implementation process. Understand exactly what happens at each step. Configure your solution with regards to even seemingly small details to get more benefits from the automation process.
The Circulus AP automation suite will be the perfect add-on to your finance department. Our application ensures seamless integration with your current ERP and can be configured easily without consuming a lot of your IT bandwidth. Right from invoice submission to all the way till payment, the ease of using Circulus with its built-in constant visibility and compliance, will keep your AP department, approvers, audit department and your suppliers happy.