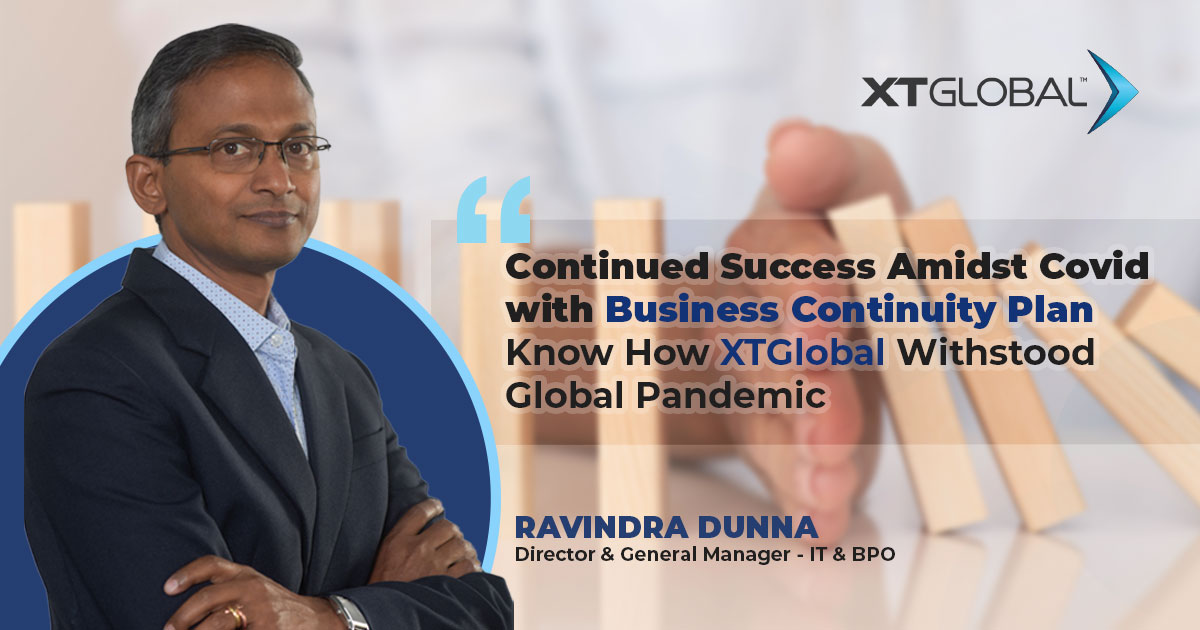 Why has 'Uncertainty' become the buzzword suddenly? A mere 30-second thought can substantiate the fact that this era prevails with constant change and possibilities of unpredictable disruptions. Just traverse 2 years back and you'll recall the treacherous #COVID19Pandemic. The onset of this #GlobalPandemic unmanned incomprehensible turbulence to organizations across the world.
Sudden #Lockdowns, strict #Restrictions, and unpredictable health hazards took a serious toll on businesses across the world. They threw a wrench in #BusinessPlans from all angles and directions. All organizations were forced to pivot their protocols instantaneously. Those businesses who couldn't, or rather, weren't prepared to pivot or bear the shocks of the pandemic, were lost in the battle.
In my 27 years of total experience and being associated with XTGlobal for 16 years, I have taken up different roles including Tech Manager, Product Delivery Manager, and Practice Head. But the role I took during #COVID was unforeseeable, unusual, and unparalleled. It was new, it was challenging, it was risky, it was experimental, but more than anything, it was needed, much needed. It has helped me to transform a lot as a person, a professional, and mainly as a #Leader to lead the #OffshoreDeliveryTeam of XTGlobal. It taught me to be dynamic, flexible, prepared, and a go-getter. The only weapon I thought that would help to fight for business during Covid is the Business Continuity Plan (The BCP).
WIELD THE POWER OF BUSINESS CONTINUITY PLAN
Evidently, there wasn't any warning that such a menacing pandemic was to befall. Afterall, that's the characteristic of all disasters – warning-less, mercy-less, rushing to overthrow whatever comes in the way. Not wielding a recovery roadmap during the time of natural and human disasters seizes any business's existence. That's the reason, being prepared with a strategic response mechanism is highly crucial. Businesses need to be prepared to face and cope with all kinds of adversities to sustain in the long run. Here comes the need for a calculated #BusinessContinuityPlan. Organizations need to have a judicious #BCP to determine all possible risks that can hinder the company's operations and know how to implement safeguards and procedures to mitigate such risks.
One of the major challenges #XTGlobal faced during the #Pandemic was to devise a plan to communicate and conduct necessary business #Offsite. All major inputs ranging from #DataBackups to #Inventories were to be readdressed. #Planning and implementing a consistent, uninterrupted shift to a fully 100% #RemoteWork environment that might span more than a year became essential.
At XTGlobal, we channelized the objectives by responding to the pandemic with a focus on the 4 Rs of the Business Continuity Plan: Respond, Recover, Resume, and Restore
RESPONDING WITH CRISIS COMMUNICATION STRATEGY
When the in-person meeting, face-to-face interactions and in-house office operations came to an abrupt halt, it became even more important to communicate with our customers and diligent #Workforce. Being in regular touch with #Clients, staff, and partners is the most important aspect to establish trust and reliability. Formulating a #CrisisCommunications Strategy with quick & proactive responses, having valuable information creates a sense of assurance to the clientele during possible business changes.
Every organization was vulnerable to crises. Even if the action plan is not devised at the beginning, the crucial point here is to acknowledge the disruption and ensure continuous communication. We built an #EmergencyResponseTeam whose KRA was to attend and respond to client queries.
This helped our clients to trust the process and retain their loyalty to us. With proactive communications on multiple #Digital and #SocialMedia platforms, we responded as per the requirements of the circumstances. At this stage, we planned to prioritize the focus on our core business applications and ensure unhindered service to our clients.
RECOVERY BY DELIVERING VIRTUAL WORK INFRASTRUCTURE
The next step was to rethink #PhysicalOperations by catering to the need for a fully #VirtualWork Infrastructure. As the workforce was spread across various regions, setting up and shifting the #Technology infra like #Laptops, #Desktops and other work inputs was a major mountain to ascend. Moreover, a countrywide lockdown made it much harder. All #Logistics became stagnant, and we were left with the last resort - to deliver the equipment in-person for as many employees as possible. However, the threat and fear of catching the COVID infection were overwhelming. The team determined to strive ahead by taking all necessary precautions such as wearing a #PersonalProtectiveEquipment or #PPEKit, maintaining #SocialDistancing, and constantly using sanitizers.
Now, for full remote access across a distributed workforce, amending #Security protocols and adhering to data protection standards was crucial. Today, the most valuable commodity is the data. So, businesses must redefine security protocols for device support and data access by introducing new protocols around identity and #AccessManagement.
RESUMING WITH MASS REMOTE WORKING THROUGH RAS
With exemplary speed, a significant number of operations were resumed as XTGlobal employees recommenced the work from their own homes. We expanded the scope of #Cloud usage for #DataStorage and shared access to overcome the pandemic-induced limitations. As we embarked to re-materialize the #BusinessObjectives with the power of Mass #RemoteWorking, we realized the power of setbacks that helped us to enhance technologies which revealed surprising capabilities.
#Virtualization can help businesses maintain continuity in the most challenging times. Adopting #TechnologySolutions such as #RemoteApplicationServers or #RAS can help in increasing the service delivery time, managing #MultiCloud deployments, simplifying configuration and auto-scale #IT infrastructure to improve resilience.
RESTORE EMPLOYEE MOTIVE WITH A HUMANISTIC APPROACH
Maintaining consistency in business operations in uncertain external situations affects employees' well-being. Such situations develop stress which hampers the #EmployeePerformance. The hazards prevailing in the pandemic environment not only distracted the attention of employees from work but also threatened their survival by causing health problems.
To navigate through this tough tide, despite being hindered by furloughs, and shutdowns, we at XTGlobal took swift action to protect our employees' health and safety by establishing essential services. The strategy was based on the understanding that all day-to-day tasks are smaller tasks that contribute to a larger goal. These tasks were assigned and adjusted in a way that would have minimal impact of stress on the employee. With such a #Humanistic approach in the crisis, we were able to meet all our #Targets and #Deadlines on time alongside the indispensable army of dedicated employees.
GROUPING UP THRIVING LEADERS
Proven employees with reliable organizational skills and strong leadership qualities while working under pressure were chosen to address adverse situations. These key players were involved in identifying and evaluating the primary business processes that needed to be continued unhindered during disruptions.
DISTINGUISH CRITICAL PROCESSES
Key processes like #CustomerSupport, #SupplyChainManagement, #PayrollProcessing, and #EmployeeHealthcareBenefits play a significant role in the sustainability of the business. Identifying and assuring the smooth functioning of these processes is a must to uphold business functionality in the long run.
PINPOINT KEY TECHNOLOGY AND TOOLS
The undebatable question every business has to answer is its technical capability during challenging situations. Identifying and upgrading with potential tools and technologies that are needed for unified operations with minimal commotion is a prerequisite in this ever-changing environment.
EVOLVING BCP: THE NEED FOR PERMANENT AGILITY
During and #PostPandemic, organizations were affected in ways we couldn't control and with outcomes, we couldn't anticipate. Every day was a constant battle. There were aggravations in restrictions and challenges with each passing day. We had to reinvent a new strategy and explore a new possibility each day to accelerate business continuity and transition to a new working world.
An evolving Business Continuity Plan is the need of the hour. Now, organizations must aim for not just agility, but Permanent #Agility to stay ever prepared in times to come and disruptions ahead.
The unpredictable path has made it a necessity to be highly adaptive, reacting and responding continuously. Having a sorted and pre-planned #Contingency #Checklist will reduce or mitigate the impact of such onsets in the future:
Supporting flexible work culture and developing capability in people with adequate control mechanisms will keep the system working.
As time is a crucial factor during the crisis, focusing on the highest priority tasks needs to be the first initiative. Aiming to safeguard the most essential business processes from disruption ensures the organization's future viability.
Investing in remote work solutions, technology enhancements and resources to deal with emergencies keep things afloat when disasters strike.
With a range of sky-high hurdles piling up during disruptions it's no longer a singular threat but a myriad of multi-pronged challenges. Hence a simple "IF this THEN that" response plan will no longer be feasible. Instead, to overcome the wide-reaching effects we need to develop comprehensive responses with complex logic like - "IF this AND this AND this THEN that" or "IF this AND this THEN that AND that".
These are a few guidelines for actionable plans to help businesses prevent, prepare for, respond to, and recover from a crisis – pandemic or otherwise.
With the experience of an unending global pandemic, the possibility of #GlobalRecession just about to kick off and an exponential increase in #CyberAttacks, we are always on the verge of standing in front of emerging disruptions. Are our organizations prepared? Are the businesses resilient enough? We need to be more proactive than ever to empower the volatile industry with permanent business agility. If you would like to share your ideas and/or experiences on how your organization prepares for withstanding #Disasters and #Disruptions, please do comment.
- Ravindra Dunna, Director & General Manager - IT & BPO, XTGlobal.
###