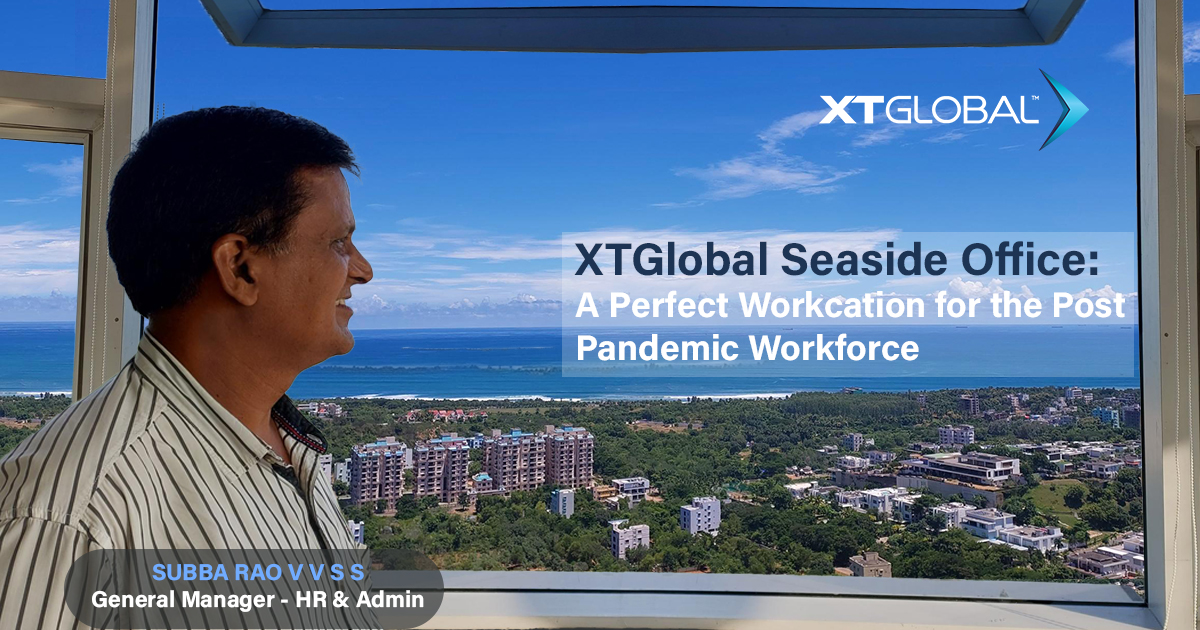 When the CEO of XTGlobal, Rama Mullapudi, proposed the idea of building an office in #Visakhapatnam #IT / #ITES sector at 2 acres of land with a #Seaside view allotted by #APIIC Ltd, we were thrilled but clueless. Though excited about this idea, we were on the fence about how we will make it happen.
Along with Rama when I visited Hill No.3 in #Madhurawada, I just saw it as a Hill, but Rama envisioned an IT castle there. He asked me if I can take up this project, but I was skeptical as I didn't have prior experience in #Construction sector. However, the clear vision and aspiration in Rama's eyes to come up with this dream project didn't allow me to turn back. He aspired to build a #workplace that is functional, adaptive, human-centered, collaborative, innovative, diverse and inspiring. Within this framework, was a desire to have a workplace that is authentic and friendly, while being memorable. I was determined to dive in and transform this vision into reality.
I convinced my family to move from #Hyderabad to #Visakhapatnam to build every XTGian dream – The Construction of a #BeachViewOffice. For the last 7 years, I dedicated myself for accomplishing our CEO's mission which would have broader benefits. Along with my key roles around #Payroll Processing, Heading HR Operations for Visakhapatnam branch, Government Licensing, Statutory Compliances, I picked up the knowledge of Construction and ensured to make this dream a reality. We knew that it might sound like a fairy tale – having an office overlooking the #BayofBengal or working just a few steps away from the #SandyBeach – but for the people employed by XTGlobal, this was going to be their reality.
What makes a #CreativeCulture attractive for people to come and join us? What do people need to remain engaged and excited to collaborate on building a better organization? What ultimately drives them away? Let us try addressing these questions in the rest of our reading.
Building an IT Castle in Nature's Lap Amidst Pandemic
It's no secret that an #OfficeSpace can either enhance or dampen a company's culture. Ultimately, the best design for any office is the one that reflects our values and meets our company's and employees' needs.
However, the #pandemic made an adverse effect on all our attempts on bringing Rama's brainchild to life. We had to endure many obstacles like material #SupplyChain disruption, #Labor Shortages, inflexibility, and city-wide shutdown. Even after clearly mapping out the plan, we had to continually revisit it in order to address the unpredictable reality of the pandemic-struck world.
To win over these hurdles, we made required changes to suit the evolving needs and volatile industry. We could finally fulfill our goal of building an #InnovativeWorkplace for a regenerative workforce.
Today, our Vishakhapatnam new #OfficeBuilding stands right in the lap of nature, bestowing excellent nature friendliness upon all our employees, reflecting the culture and ethos of its location. With the perfect blend of contemporary decor in the sumptuous #interiors of the #building, the office has set benefits much higher than the expectations of its employees.
We all want an office with a view. But what if that view could be of the #beach? For many employees, that's an everyday reality out of their windows — or, at least, where they can walk on their lunch break. And if you want that to be your reality, XTGlobal is here to help make that happen.
Why Did We Choose Visakhapatnam for Our Dream Project?
This office is our XTGlobal's bit of Contribution for #ITDevelopment in #AndhraPradesh. Post-Covid, the IT industry has picked up in a big way and the business is expected to scale up in the coming years.
A shift in the new IT Policy of Andhra Pradesh offers end-to-end support for startups like plug-and-play office space, Access to Investors, Efficient Talent Pool, #VentureCapitals, #PrivateEquityFirms, and other Commonly Shared Services. With a massive demand for a skilled workforce in the Information Technology (IT) and IT-enabled services (ITeS) sectors, Andhra Pradesh is the preferred IT hiring destination for tech companies and startups.
Visakhapatnam, the proposed executive capital of the state, is predicted to become a major hub for the IT sector in the future. Vizag's alluring beaches give it a locational advantage over other IT hubs in India. The government plans to turn Vizag city into an attractive destination for IT companies through various incentives and business process reforms. As part of the #InfrastructureDevelopment measures to enable IT sector growth, Vizag will get an #IntegratedTechnologyPark consisting of an #EmergingTechnologies #ResearchUniversities, Incubation Centers, #CentersofExcellence (CoE), #CoWorkingSpaces, #StateDataCentre (SDC), to be established by the IT, E&C (IT, Electronics and Communications) departments.
A Glimpse of XTGlobal Vishakhapatnam Office
Our XTGlobal office is set within the prestigious IT-SEZ among the kingpins of the IT World and in the lap of nature, above the Golden Sands of #RishiKonda. Spread across 3,10,000Sft, the outstanding sustainable workspace is rooted on Hill No.3 Madhurawada in the heart of Visakhapatnam. Our new workplace fit-out is enveloped with serene hills, blue waters, greenery, & beautiful skies, which is bound to uplift anyone's mood!
In the kingdom of the IT leaders, this futuristic IT hub is a place to be! We have the IT giants like #IBM, #Cyient, and #Innominds in our neighborhood. The building is conveniently located amid a fully functional neighborhood with all the essential amenities starting from renowned apartment complexes to multi-specialty hospitals, prestigious schools & colleges like #GITAM #University, malls, banks, ATMs, plenty of food joints, supermarkets and many more. You name it we have it.
With a #seating capacity of 2000+ it has captured the essence needed to readdress one's brand and business success. Navigable, #SpaciousWorkspaces create a sense of connectivity across the work floor. Our new building is designed to spark not just collaboration but also innovation which crops up when people collide. The palette chosen is neutral and subtle, bringing a timeless elegance that feels welcoming. The workspace is intended to be a shift from manual inputs to a more technical and software-equipped model. It is envisioned as a key activation point for knowledge sharing, impromptu collaborations, and socializing.
Workspaces Redefining the Future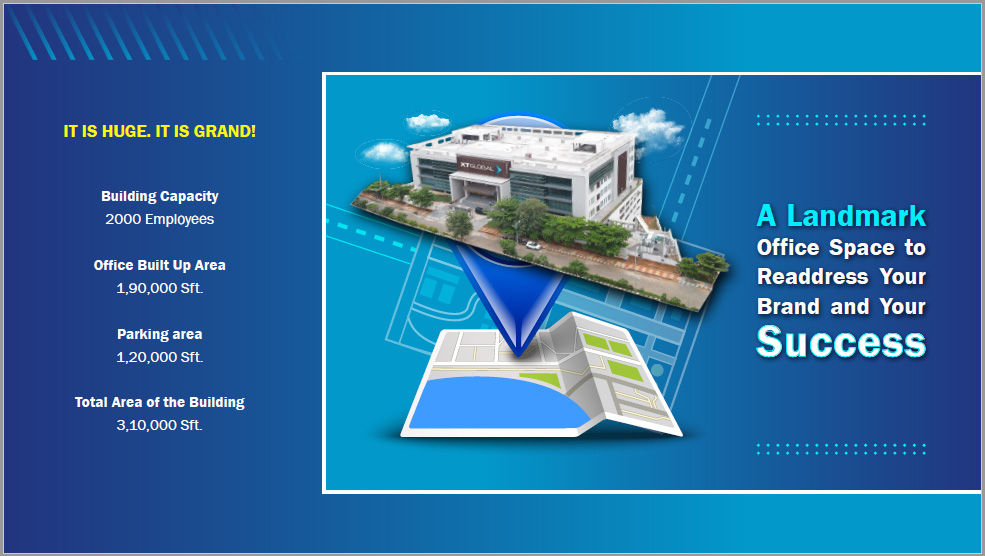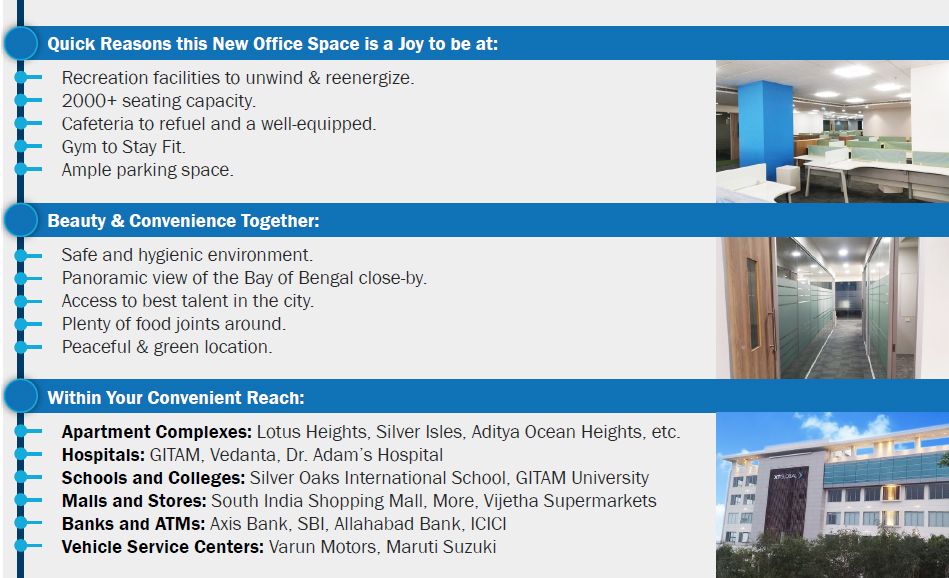 The core workspace comes in multiple tiers that offer different options:
PLUG AND PLAY –

This segment offers #ReadytoMove office spaces on the 1st floor with complete state-of-art infrastructure. This #Coworking center provides #PrivateOffices, #DedicatedDesks and #CoworkingSpaces. High-energy workspaces for the fast-paced and tech-savvy workforce are just a click away. Our office spaces for rent in Visakhapatnam offer prime luxury with fully functional Workspaces. Our Workspaces are ideal for companies to start and setup their businesses, make #OfficeHeadquarters and also #RegionalOffices in our Seaside Office.



BARE SHELL OFFICE SPACE -

Design wonders with the concrete space to establish smart offices that reduce employees' efforts and enhances productivity. One can get creative and enjoy the flexibility of curating the space as per their liking, requirement and business style. #BareShell office space makes an excellent choice for startups and corporations because they offer enough room to accommodate a company's changing needs.

Workcation from Office in Vizag
In the wake of the #GlobalPandemic, employees are in two minds with the idea of #WorkingfromHome or #WorkingfromOffice. While working from the office provides the much-needed human interaction for collaborative growth, employees got a taste of what it's like to work from home, which is a convenient, flexible and nature-friendly option.
What if we say, you don't need to choose from either of the options. Why not have the best of both worlds? How about employees considering the alluring silver lining of #Workcation opportunities?
XTGlobal's New Office in #Vizag is an exact manifestation of this concept. Here, time doesn't move hour to hour but mind to innovation. The teams are motivated to Rest, Relax, Reflect and Regain Thoughts as they generate ideas with colors borrowed from the sea. Just a few steps away from the sandy beach, workcation in our Vizag office is evidently better than a vacation.
We are Shore of these Benefits!
Working in an office that's right on the beach unfolds countless benefits to drive motivation within the workforce.
Employees have a natural motivation to enjoy the view of beach from their office desks. Sipping coffee while watching the waves crashing on the seashore or taking a walk on the beach in the lunch hour smelling the sea breeze surrounded by the hills, are few of the many conversations that the teams have with the nature around.
However, most important reason of having an office near the beach is to ensure a happy workforce. Beaches play a significant role in improving one's #MentalHealth. One of the most recent scientific studies has found that those who work in close proximity to the beach experience significantly lower levels of psychological stress. It turns out that the sea waves generate negative ions in the air which are associated with an increase in mental energy. Ultimately, a #healthy workforce is the key to improved productivity and in turn, a successful organization.
If you desire to Work Hard and Beach Harder in Evenings, Come Join Us in our XTGlobal office at Hill No. 3 Madhurawada. Let us Work on a Whim Together and enjoy a perfect Workcation. Sometimes in the waves of change we find our true direction. If you want to find the right direction of your #ITCareer and #ITBusiness in Andhra Pradesh, then direct your direction towards us. You can email me at [email protected] to discuss about the co-working opportunities in XTGlobal's majestic beach side office.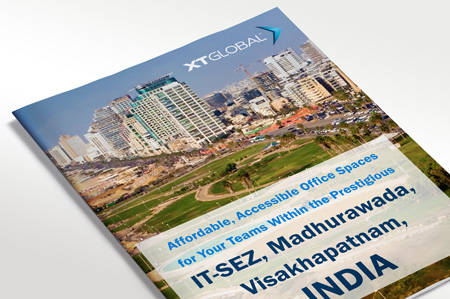 Have you experienced working amidst enjoy the sea breeze which puts the minds at ease? Please comment to share your experiences, thoughts and ideas about organization's initiatives to reform working experience for its employees.
- Subba Rao V S S, General Manager, HR & Admin, XTGlobal
###