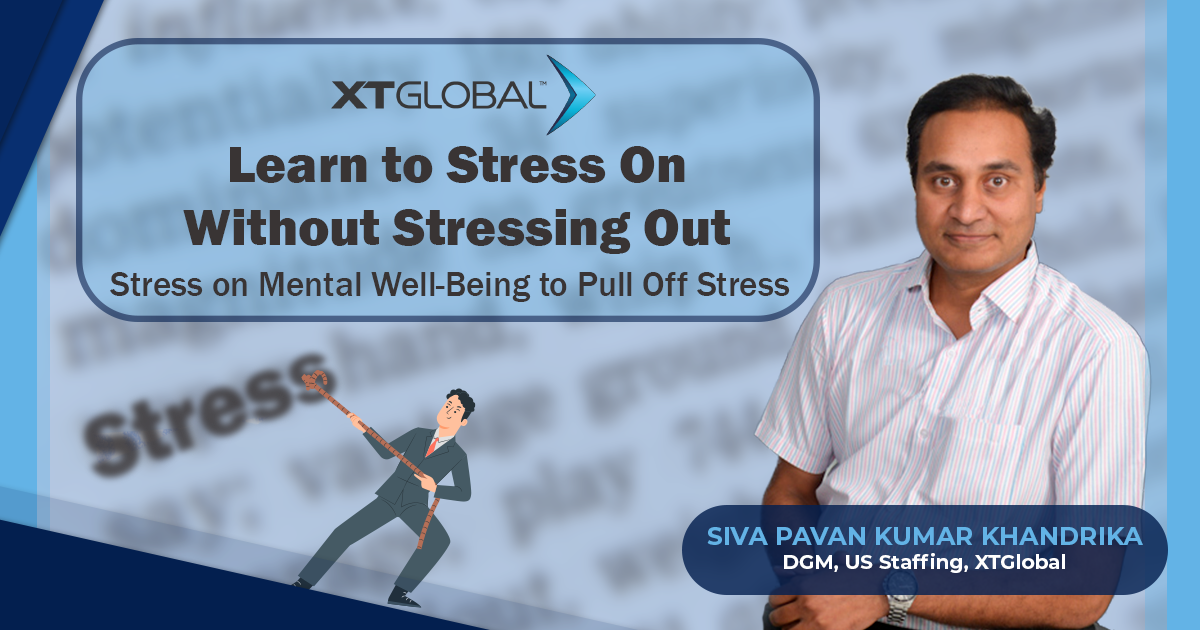 When one's role coincides with the core #EmployeeCentric tasks, the mission of untangling stress from #WorkCulture is invariably endowed. Being a part of the USA #HROperations for more than 16 years and at XTGlobal for more than 10 years, has provided me with numerous opportunities to stay in close proximity to the #Workforce. Taking care of responsibilities pertaining to the US #HROperations including #Payroll, #USStaffing, Contracts, #EmployeeGrievances, Compliances, Benefits Administration and #HealthInsurance queries has unveiled the channel for me to address crucial issues concerning #WorkStress.
When XTGlobal started celebrating the #InternationalStressAwarenessWeek, I remembered the assignment I submitted nearly 20 years back as part of my MBA Project with the Employees of #Automotive Dealership and Service Center. So, I thought this is the right week to share the thoughts I gathered on Managing Stress during my #MBA Project and mainly during my 16 years of work experience, as Stress is the Silent Killer of the #Workplace #Productivity.
In today's fast-paced world, the biggest growing concern is #Stress. It has become a prevalent and costly problem in every workplace. Any kind of work, be it big or small is expected to add a certain amount of stress. To get a job done, every employee goes through some degree of pressure. Irrespective of the romanticization of work, stress is inevitable. The pressure of meeting a #deadline, conflicting demands, a challenging obligation, non-engaging work, and lacking #SocialSupport are a few scenarios that add fuel to the fire.
People working at different time-zones are more prone to #WorkPressure. Managing #GlobalTeams is quite challenging. It is essential to keep them active during the late hours. Hence, to Sense the Pulse for the #MentalWellBeing should be the New Focus for Workforce. So, I encourage the team to take quick breaks and small walks pays off almost every time. However, the new evolution in work schedule due to the #GlobalPandemic, has brought a positive change. With flexibility of #WorkFromHome, worries about personal urgencies cropping up during late work hours and the trouble of commuting at night have been resolved to a significant extent.
These stressors do not just take a toll on employee's mental and physical health but also hinder overall productivity thereby stagnating organizational growth. Being available 24/7, the pandemic has blurred the lines between work and leisure with the launch of new work culture. Stress, as such, is not always negative. At times it acts as a good motivator in solving problems and helps in coming up with outstanding results. However, it is an alarm bell once it becomes persistent, excessive, and interrupts the daily functions. Immediate redressal of such issues has become a pressing priority. Therefore, managing stress is essential at both the individual and #Corporate levels.
Creating an Environment of Little Help Goes a Long Way
Being switched on for prolonged periods of time, without giving our brain the opportunity to switch off, leads to exhaustion and burnout. If this goes unaddressed, then the work efficiency is threatened significantly. If not managed well, the sources of stress lead to poor mental health which in turn result in increased #Absenteeism, thereby reducing creativity and productivity.
We at XTGlobal strongly believe in the overall well-being of our employees. Focusing on mitigating the causes of stress and burnout in the workplace is always prioritized. Taking initiatives focused on ensuring mental wellbeing of employees creates a difference:
Company-sponsored #Therapy sessions to discuss mental health issues help employees to confidentially discuss it with their supervisor without feeling judged or penalized.
Incorporating #WorkplaceWellness by encouraging the staff to go on a walk during lunch breaks.
Revamping the habitat by updating the office environment with modern and comfortable work areas, greenery, pleasant color schemes, and so on.
Facilitating #FlexibleWork hours and #RemoteWorking.
These are a few to name. Our organization never hesitates in recognizing and applauding its workforce for achieving tremendous results. The strongest employers recognize that their employees are struggling and prioritize mental health. Despite making mental wellness efforts, most of the #GenZ and #Millennials are not comfortable speaking openly about their stress, #Anxiety, or #Burnout. This is because of the fear of #Reprisal.
Recently, we conducted a "Health Talk on Stress Management" organized by our HR Head - Ganesh Somisetti. Various stress-reducing #Yoga techniques were shared by a renowned Yoga professional Dr.Subhadra from #NOVOInsurance. Many easy and simple practices, and quick-to-apply stress relief procedures were well depicted during the session. We had an interactive question & answer session at the end where all the employees resolved their queries. Let's have a recap of a few snippets: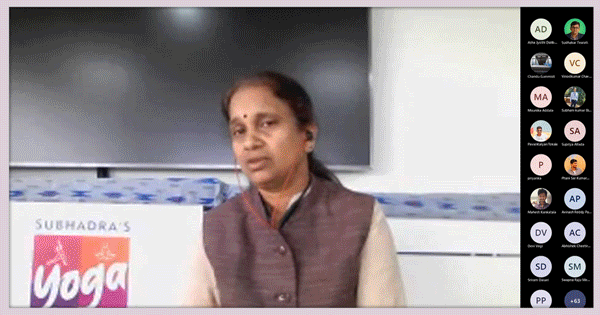 The Cult of Overwork
The culture of #Overwork is thriving. To appear successful, the need to feel stressed has become the norm in modern workplaces. Long working hours and exhaustion are looked at as the measuring metrics of success. Overly ambitious #Workaholism and the trend to devote oneself to work and glamourize long hours remain persistent. Despite being aware of the consequences of overwork, and the toll burnout brings on one's physical and mental health, high-stress work culture has become the marking stick for employee success. Hence, the need to halt such an overwork obsession culture is a must for every organization.
Work-Life Balance Quest is the Basic Request
Today's young gen workforce is not in nod to accept the norms of traditional boundaries between home and work life and the need to be tied up to the work desk to get things done. The culture of long work hours and the #Presenteeism pattern of work is being questioned. Employees' freedom with some discretion over the place of work is more in demand. A flexible workplace that considers work-life balance is the new mantra that helps in retaining the talent pool.
To strike a balance between productivity and employee #Retention, here are few approaches we suggest - offering generous paid time off and sick leave, flexible and predictable shift start and end times, split shift options, part-time/contract roles, and job-sharing opportunities. When companies encourage employee well-being while offering the flexibility to attend to personal matters and lead a fruitful life outside of work, they are more likely to be rewarded with a less stressed, more engaged, and more productive workforce.
To accomplish this, every employer needs to understand how the employees' value preferences are evolving now. Knowing the employee pulse through surveys, engaging in interactive activities, and having a direct word with the workforce through face-to-face conversations will help employers to understand the changing preferences to some extent. Everyone should shift the focus to specifics that make their careers, and routines more enriching and stress-free.
These are just few of my thoughts to build stress-free teams. If you also have any such thoughts please do share here in comments and let us all be together to create Stress-Free working zones.
- Siva Pavan Kumar Khandrika, Deputy General Manager, US Staffing, XTGlobal.
###