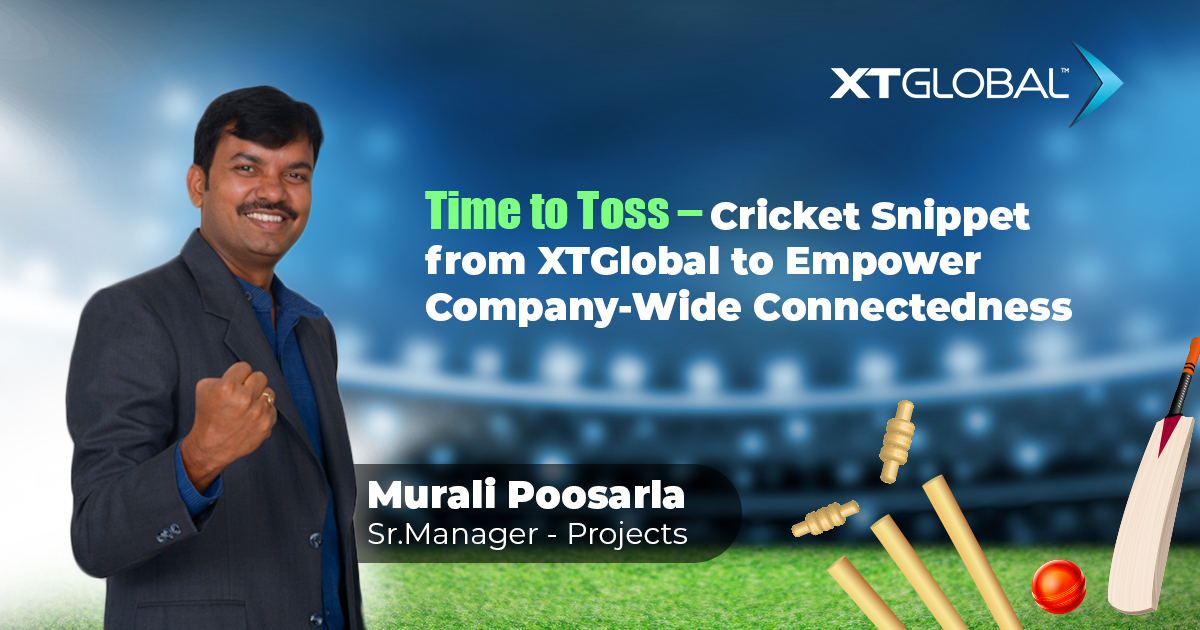 Look around and introspect... We'll decipher that evolution and connectedness are directly proportional. In these evolved times, our lives are becoming more fast-paced and interlinked. Now, as we see that the gloomy days of the #Pandemic have been put to rest to a greater extent, everyone is returning to normalcy both in their lives and livelihoods.
We, XTGians, also started getting back to normalcy with a #HybridWorkModel. These days, when I am in the office, though I am excited to meet and greet my professional friends, I somehow started missing the essence of something that we had pre-covid and not now. Being in XTGlobal for 15 years now, all my colleagues have become both professional as well as personal friends. One can say that in these one-and-a-half decades, XTGlobal has become my extended family.
PULL UP YOUR SOCKS TO FIND THE X FACTOR
Now, what forms and keeps a family intact? Apart from living together, meeting, greeting, earning, and supporting, we expect something more – an X Factor. I started pondering, what's that MORE factor? What's that X factor? After contemplating for a while, I realized it is Togetherness and Connectedness. Evidently, this is that X factor that we had before but seems a bit absent now because post-pandemic, we meet our office friends only during priorities and for professional purposes. The trend of 'Get the Work Done and Get Back to Home' has started now. On one hand, the bond with families, relatives and neighbors started strengthening, but on the other hand, everyone seemed to notice that the bond with office friends was a bit stagnant. But earlier, it was slightly different. As we were spending almost half of the day with office friends, we were bonding even with them to a greater level. However, even though we need to change as per the changing dynamics, I feel that connectedness with colleagues is needed to some extent at least for some time even if that's on the weekend.
Being a sports enthusiast and Lead of the XTGlobal #SportsCommittee, I couldn't think of a better idea than an organization-wide sports event to get that connectedness back and create a harmonious workplace.
WELCOMING THE WELLBEING TO THE WORKPLACE
Today, businesses are exploring innovative and refreshing ways to enhance their employee #wellbeing and bonding. For this, I would always vouch for sport-centered initiatives. Sport is one of the best ways to bring employees from different groups together and achieve a healthy #WorkLifeBalance.
Sports is a great connecting fiber across people, communities, countries, and organizations. Being an integral part of an ideal organizational culture, it provides a wide range of physical, emotional, and social benefits to both employer and employee. If we look back, we will recall that almost all of us have been encouraged and inspired to participate in sports since our early years. Sports have always been one of the most fun-filled ways to learn about teamwork, honesty, and respect for others. Here's how Sports has boosted XTGlobal culture, employee well-being, and in turn overall organizational success.
PROMOTES SELF-DISCIPLINE
The rules and regulations involved while playing sports monitor and regulates the player's performance. Similarly #SelfDiscipline can be transferred to the work front too. Adhering to the company's ethics related to commitment, vision, customer satisfaction, deadlines, and conduct has helped XTGlobal employees to achieve workplace success.
ENHANCES JUDGEMENT SKILLS
Analyzing and decision-making is the critical skill needed in every business world. Playing sports helps arrive at a better judgment. As players adjust their actions and skills according to the instantaneous gaming situations, employees too train themselves to take quick and accurate decisions in work-related challenges.
BUILDS MORAL AND TEAM SPIRIT
As the adage goes, "All Work and No Play Make Dave a Dull Boy." After a working week, everyone does enjoy their weekend game of football or cricket. Now, how about adding this element to work? Sounds familiar right? After all, there's nothing like a good game to bring us all together. It's a fantastic chance for our employees to explore the lighter side of their colleagues and leaders, alter their perspectives, and create more personal relationships.
There isn't a single workplace in the world that wouldn't benefit from a little fun now and then and organizing an office sports event is an excellent way to bring everyone together and get them smiling. I can guarantee they will return to their desks feeling rejuvenated and much more supportive.
PASS THE CRICKET BALL TO CALL THE NEWBIES
In a completely professional environment, at times some #NewJoiners, especially fresh graduates, hesitate to open up about their strengths and weaknesses. In such scenarios, Sports events at the work front become great openings to greet new team members in a fun and relaxed way. Sports provide a great opportunity to try out our new talents (or build on existing ones). In the team I am handling now, we have 10 #FreshGraduates for the #RoboticProcessAutomation process. Though I could build a rapport with them while training, I felt playing a sport with them might help me to know their special attributes, which I can leverage on the Workfront.
SCORE THE SUCCESS RUN WITH THE POWER OF SPORTS
Competition is part and parcel of our day-to-day lives, and office sports day is one such way to bring that go-getting attitude out onto the playing field. The list of brain-boosting benefits attained from a sport is endless. It improves energy levels and lowers #Stress levels. Every sport plays a major role in revitalizing professional relationships, and enhances memory, concentration, and improves #Productivity.
Bringing together employees in a non-work-related environment for a relaxed and fun day outside can help them see each other in a new light. They get to discuss their families and outside interests, which helps them know each other, feel more connected and work better together. At times work can be very stressful and draining but, having understanding and friendly colleagues can make a big difference in boosting productivity.
USING THE CRICKET STUMP TO CUT THE TENSION - GAME ON!
When we hear anyone say 'Sports Day' at work we all get instantly teleported back to our school days. It's an opportunity none of us wanted to miss – the fun overload we would never forget! Employees are no exception to this excitement. Moreover, each employee wants to represent their company in a way that makes them proud. A sports event day to combine talent and play is the perfect solution.
Hence, we at XTGlobal organized a #CricketTournament for our XTGians on the 3rd & 4th of December 2022 at Hyderabad. Five Teams with 75 Players across different business units played. The #TeamBuilding environment was quite cheerful and overwhelming. Healthy competition and friendly forces coming together brought our workforce close like no other. Every player tried hard to put their best foot forward for their respective teams. Each team played well with a good #WinningTogether spirit, and the "Support Sharks" team emerged as the Winner of the Tournament.
What more can we ask for? Boosting #EmployeeMorale, building a better bond amongst the teams, enhancing #BrandAwareness, promoting a work-life balance, facilitating networking with like-minded individuals, and driving friendly competition – it's been filled with plenty of positives. Employees' productivity is enhanced on a weekend or day well spent. Many good memories were made, and great talents were showcased.
Talent wins games, but teamwork and intelligence win championships. Sport is an optimistic medium to accomplish the company goals we set. As inspiring sportsmen have asserted, "Your Goals Should be Out of Reach, But Never Out of Sight." We must aim for great possibilities and strive towards united success together with joy and cheer. If you would like to share your experiences about organizing sports activities in your company and playing with fellow employees, please comment below.
- Murali Poosarla,Sr. Manager – Projects, XTGlobal, Inc.
###