Rapid Application Development with Mendix
The demand for whipping out new applications and products is growing faster than ever. Implementing continuous improvements to suit the requirements of the end-users and quickly adapting to changing requirements is the need of the hour. Inability to keep pace with the demand can mean losing business.
Skilled resources have too much on their plate! They need to code, supervise projects, manage teams, analyze customer needs, and focus on innovation! On top of that, experienced plus skilled resources are scarce and expensive.
Delivering applications swiftly has become a critical success factor, and the developers struggle to wrap up the ever-increasing backlogs. All this boils down to the fact that complex and lengthy app development methodologies are becoming things of the past.
"500 Million Digital Apps and Services will be developed and deployed using Cloud-Native Approaches by 2023, driving Industry Apps Explosion. This number is the same as the number of apps developed in the last 40 years.
– IDC "
Speed and agility are the name of the game. Only those who can roll out new applications fast without compromising the quality will ace the App development game. What if you could rapidly create applications with a reduced need to code? Well, that is possible if you blend-in Rapid Application Development (RAD) methodology with Low-Code Application Development (LCAD)!
Mendix platform facilitates Low-Code Application development to enable Rapid Application Development. Wondering what is it all about? Let us get into the details gradually and understand these terms one-by-one:
"By 2024, Low-Code application development will be responsible for more than 65% of application development activity.
- Gartner "
What's this Low-Code Development?
Low-Code, as the name indicates, is a software development method that requires minimal coding, unlike extensive coding languages. Low-Code development uses visual interfaces with simple logic and drag-and-drop features to create applications.
Development as Easy as Pie!
This makes it easy for non-developers (citizen developers) to build software, leaving seasoned developers with more bandwidth to participate in the creation of innovative and intricate apps. Low-Code development enables rapid creation of business applications with minimal upfront investment in setup, training, and deployment.
Low-Code does not replace traditional coding-based platforms, nor does it aim to solve all problems. Instead, the approach works on the principle of abstraction – It hides away the complexities behind application development and makes the process effortless. The focus of Low-Code is to enable the application of advanced principles like Automation, Artificial Intelligence, NLP, and Machine Learning in customer-centric and user applications. All in all, the future of Low-Code is based on three focus areas:
Abstraction To create robust systems for managing and controlling complexity, E.g., Visual modeling approach.
Automation Process Improvement, Process Optimization, Integration.
Cognitive Tools Low-Code integrates with AI, NLP, and other cognitive tools to augment the development.
Relish the Spread of Low-Code Development Benefits:
Here are some of the reasons why companies are increasingly adopting Low-Code
application development:
To Accelerate Digital Transformation
To Create Sophisticated Applications
To Improve Responsiveness to Business Needs
To Lower Technical Debt
To Support Product/Service Innovation
To Improve Developer-Centric Metrics
To Reduce Challenges in Traditional Coding
To Enable Multi-Channel & Frictionless Experience for Customers
The ease and speed of Low-Code development promotes Rapid Application Development!
"Enterprises have turned towards Low-Code for its ability to reduce strain on IT resources, increase speed-to-market, and involve the business in digital asset development.
- Forrester Consulting "
"3 Months or Less is the time taken by developers to develop Applications with a Low-Code Platform
- Mendix "
What is Rapid Application Development?
Rapid Application Development also holds the crux of the approach in its name! This software development approach lays more emphasis on faster development of prototypes. With these prototypes, developers can demonstrate the developing software to the client. So, rather than following a strict plan, RAD provides the flexibility of changing the requirements at any point in the cycle.
Since RAD is an agile software development methodology based on iterative model, it is suitable for creating intricate business applications with complex features that include custom, industry-specific, and dynamic business requirements. One can build applications with RAD through high productivity app platforms like Mendix.
Mendix – For Effortless Application Development with Dash of Innovation!
Mendix offers a Low-Code development platform to facilitate the implementation of RAD. The platform provides tools to build, test, deploy and iterate applications, enabling cutting-edge app development without burning a hole in the pocket!
Mendix delivers the benefits of visual development and enables rapid, iterative, and collaborative application design and development. The ease of development allows a wider variety of users to participate in the development, thus, increasing the overall developer population. As a result, the coding efforts of the senior resources can simmer down, and they can engage more with the customers/end-users to enrich the software development with innovation.
"24% of Mendix Low-Code users had 0 programming experience
- Mendix Platform "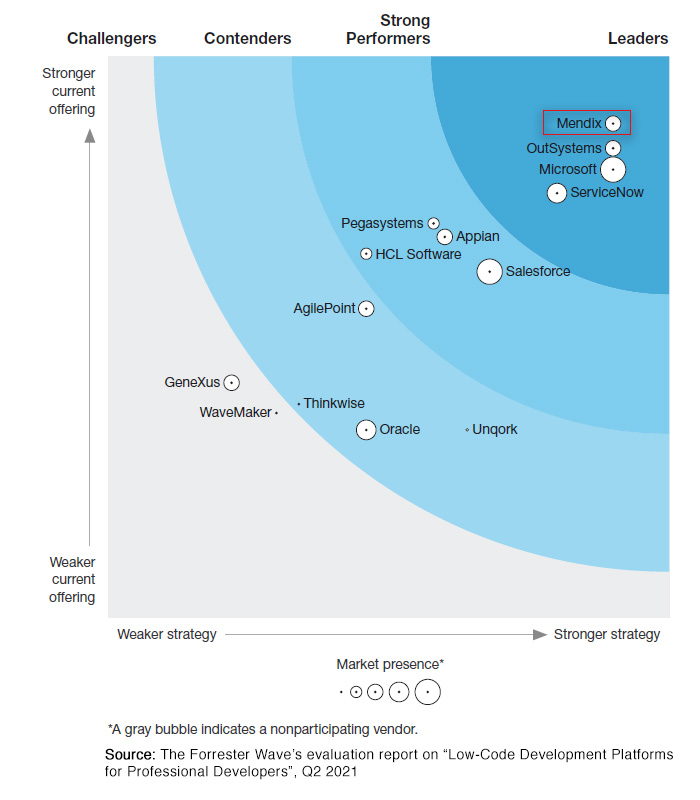 Get a Slice of Rapid Application Development with Mendix:
Visual Modeling and Building Blocks
Collaboration Tools for Tracking Requirements
User and Role-based Platform Access
Embedded Governance for Better Control
Automated Testing, Tracking, and Analytics
AI-based Assistance
Supports Agile Scrum Methodology
Integrated Development Environments
Deployment to the Cloud of Choice
Real-time Configuration and Monitoring
Enterprise Dashboards to Ensure Optimum Performance
Pour in the Mendix-Advantage in Your Application Development:
Faster Time to Market
Enables Innovation
Lower Risk of Failure
Better Control over the App Dev Process
Faster ROI due to High Volume of Usage
Open, Flexible Architecture
Decreased Costs
Better Customer Experience
Integration with Core Systems for Better Insights
Improved Agility to Respond Faster to Market Changes
How Does XTGlobal Develop Perfect Applications with Mendix?
XTGlobal uses Mendix Low-Code application development platform to create customized applications and functionality extensions for our clients. Mendix offers a mix of 3 key elements for a lightning-fast enterprise application delivery - speed, collaboration, and control!
Taste Success with Mendix & XTGlobal:
Build apps 10x faster with 70% fewer resources.
Access tools suitable across a range of dev personas.
Address both data-centric and process-centric development patterns.
Meet specific infrastructure, architecture, and dev process requirements.
Empower business & IT to work together.
Create the most engaging experiences.
XTGlobal's expertise in the Mendix platform helps our clients chop-off excessive development time and cost, improve agility, and simplify the application development process. The conjunction of Low-Code Development and Rapid Application Development through XTGlobal and Mendix achieves faster project executions and delivers quick wins.
What Brings Out the Brilliant Advantage to XTGlobal's App Development?
Certified Mendix Developers

Customer-Centric Consultative Approach

Agile Methodology

Business-Result Driven Solution

Flexible Pricing

Custom Support Models
Rapid Application Development with Mendix is Low-Code solution XTGloabal offers! Whether you are looking for unique and customized business applications or need to upgrade your legacy applications fast, it is possible and swift with Low-Code application development by XTGlobal and Mendix Partnership. Make agility and ease of Application Development your Competitive strength!
Partner with XTGlobal to Leverage Rapid Application Development Powered by Mendix