In a Workforce Mood Tracker report, 73% said that they've laughed with co-workers so hard, they almost cried!
Do you remember the last time you did that?
If you just remembered your favorite co-worker or your workplace best friend, this story is just for you!
Those coffee breaks, pre-meeting excitements and struggling to meet project deadlines are few of the many office memories which become gems when there's a friend in it.
According to the Gallup's State of the American Workplace Report, 70% of employees say friends at work is the most crucial element to a happy working life. The report also identifies that strong workplace friendships at the office can increase productivity. The Many Chapters of XTGlobal Gang Friendship Saga strongly establishes this fact and resonates with the spirit of Friends Together Always Grow Together and Win Together.
A tale becomes epic when it is weaved with timeless memories and countless chapters of friendship, growth, and victories. Such is the story of these 5 Friends who together make a united Fist of Victory: Ramesh Kumar C, Kiran K, Sudhakar T, Murali P, Harish E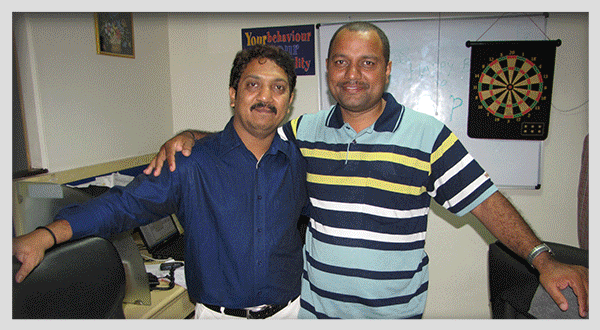 It all started in 2004 when Ramesh was working late in office at the former organization. Kiran, who was from a different department met him for the first time during a tech exchange. Since then, there was no looking back for their instant friendship. After few months, the history repeated itself. It was 15 years back, when Ramesh introduced Kiran to XTGlobal and the old-time buddies were back again!
By this time, the XTGlobal Gang had already started sprouting up. When Ramesh had joined XTGlobal in 2006, Sudhakar was also recruited in the team. They both were skilled and committed employees but a bit different from each other. While Ramesh was an outgoing person, Sudhakar was more of a shy spectator. Surprisingly, their dissimilarities are what strengthened their friendship as they balanced each other out.
With every passing day, they were growing alongside each other as well as the organization, sharing almost everything under the Sun, be it knowledge, bike rides, lunch boxes and much more. "Hardly, in these 16 years, we had lunch separately in office unless we have our team lunches," recalls Ramesh.
Soon, Murali and Harish joined to complete the unified XTGlobal Gang. "Even though we are working in different verticals/Business Units, we ensure to maintain the same sprint of competency and enthusiasm," asserts Kiran.
These 5 Friends are unique in their own way of capabilities, skills, aspirations, and challenges. You might think that they walk in the opposite direction, but the matter of fact is they remain side by side in the quest for a united growth and a united win. With the constant support of Ravindra Dunna – Director and General Manager, IT & BPO, a friend who always finds a way to help them win, they are working separately for different tasks but together for a common goal - to contribute to the success of our organization and the XTGlobal family.
Let's see how XTGlobal Gang has progressed in their career path unitedly under the umbrella of XTGlobal:
Ramesh: He joined in 2006 as the 1st employee of the company. He was the Team Leader for #APW projects and handled 15+ clients. He was also responsible for designing and developing 1st #MobileApp from XTGlobal for client in #Entertainment Industry. Later, he become the Technical Manager followed by Project Lead for #Circulus Enterprise. He went to the US in 2014 and 2015 for requirement analysis for Circulus Enterprise where he upgraded himself with completely new technologies - #WebLogic, #Java, #Oracle with #Linux OS and built a new team, developed processes and was then promoted as the Sr. Technical Manager. This November, he'll be completing 16 years in XTGlobal.
Kiran: He was recruited as the Sr. Software Engineer in XTGlobal responsible for the projects on #Microsoft #dotnetstack - #webdevelopment, and #Cloud #Azure development. With committed hardwork, he started climbing the ladder of growth and learning. He was promoted to #ProjectLead, then #TechnicalManager and today he is the Sr. Technical Manager.
Sudhakar: He started his journey in XTGlobal in 2006 as a #softwaredeveloper. He was given the opportunity to work on projects as an individual contributor and continued getting more accountability and ownership within the company. As a result, he was promoted to #SeniorSoftwareEngineer, Team Lead, Technical Manager and now he is the #SeniorTechnicalManager.
Murali: He manifested a long-term career success with XTGlobal alongside his polar-opposite friend - Kiran PVSM, upholding the vision of organization towards a united success. Read the Corporate to Corporate Friendship Story Here.
Harish: He embossed his journey in XTGlobal alongside his childhood friend Chaitanya with the radiance of career growth, friendship and united success. Read the Kindergarten to Corporate Friendship Story Here.
A bond of friendship that helps you grow, gives you the room to stay your true self and lets you win in your own unique way is priceless for both the individual and the organization. If you ask major #hiring committees, they will admit that the one thing most candidates expect from a company is an environment of challenge and fun. Without these, employees will never discover #jobsatisfaction. In the end, what better way to establish #workplacefriendship than being fun while welding their crafts?
That's the reason XTGlobal nurtures and motivates a culture of workplace friendships to establish a happier, healthy work environment for the most crucial asset of the organization, THE PEOPLE.
###